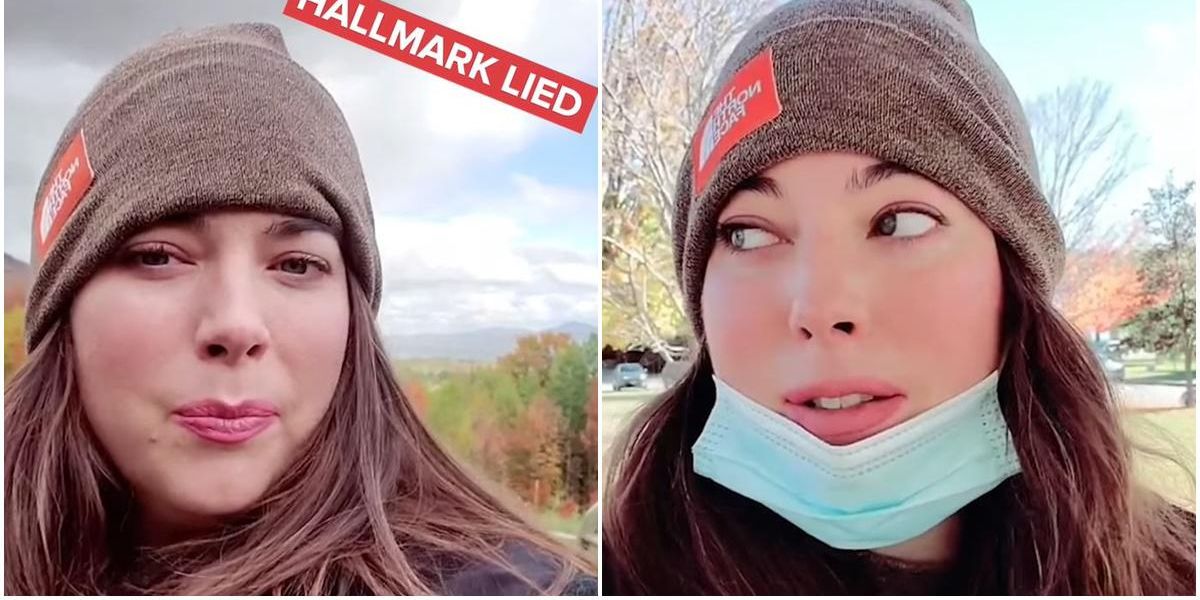 Hallmark Channel Christmas movies are proudly predictable, full of clichés, and boring as a virgin lawyer. But people love them. I mean, they really love them.
According to Crown Media, Hallmark's parent company and its sister network Hallmark Movies & Mysteries, an average of 3.5 million people voted in Hallmark's "Countdown to Christmas" during its nine-week run in 2018.
Laugh all you want at the juicy movies, but Hallmark doesn't care. In 2018, it brought in $ 600 million in ad revenue.
---
Hallmark has a formula and it sticks to it. Even the movie posters are formal, Dave Addyey has made a montage of Hallmark Christmas movie posters and their resemblance is pretty hilarious. Each room has a white woman in red with Christmas decorations and a white man holding her in green. Both are bathed in beautiful, golden lighting.
I updated my Hallmark movie montage with the 2019 crop. Poster formula is still going strong. https://t.co/om0CQoZ4lu

– Dave Addey (@Dave Addey)1576356595.0
Designer Jessica Jones even created a bingo card so you can play along with all the cliches throughout the vacation.
Canceled your flight? To check.
Woman quitting a successful job for life in a small town? To check.
Scene where they decorate a Christmas tree? To check.
Child makes a wish? To check.
Gift wrapping scene? BINGO!
And of course the movie must have a female lead who was in the TV show "Full House". It just wouldn't be a Hallmark Christmas movie without Candace Cameron Bure, Lori Laughlin, or Jodie Sweetin. But of course we'll settle for other '90s TV stars like Danica McKellar or Lacey Chabert.
Comedian Elizabeth Kemp had some fun with Hallmark Christmas movie clichés by creating a hilarious video in which she plays the quintessential 'big city girl who comes to a small town at Christmas.'
But unfortunately, even though she puts herself in a position to find love, it never happens. Hence the title "Hallmark Movies Lied to Me."
"I'm over 30. I have multiple degrees, I've definitely prioritized my career. I'm single, but I've been in Vermont for five days now and not once has anyone approached me to rescue an inn. planning a fall festival or even asked me to reconsider my priorities, "she says in the opening video.
Kemp then visits a Christmas tree farm and speaks the phrases that should get her some attention from the male protagonist. "I hate Christmas, I hate autumn. I don't like the holidays," she says.
She even sets a trap for a lover by grabbing a hot cup of coffee and sitting in a classic small-town gazebo. But nothing happens.
Kemp goes so far as to hit the road, hoping for a traffic incident. Missing a pedestrian with your car is a great way for couples to have a fun encounter in Hallmark movies.
Unfortunately, Elizabeth didn't meet the love of her life in a cozy, Christmas-like, Hallmark fashion. But the good news is that she didn't accidentally end up as the female lead in a Lifetime movie. Then she would get into big trouble.
From your site articles
Related articles on the internet
window.REBELMOUSE_TASKS_QUEUE.push(function(){
function menuClick(e) { e.preventDefault();var x=document.getElementsByClassName('navbar-wrapper')[0]; document.getElementsByClassName('menu-wrapper')[0].classList.toggle("openz");
if (x.style.display === "block") {x.style.display = "none";} else {x.style.display = "block";}
var homeContainer = document.getElementsByClassName('content-page-wrapper'); if (homeContainer[0] != undefined) { homeContainer[0].classList.add('background-opacity'); }
var adPlaceholder = document.getElementsByClassName('ad-placeholder'); if (adPlaceholder[0] != undefined) { adPlaceholder[0].classList.add('background-opacity'); }
var followUs = document.getElementsByClassName('follow-us-wrapper'); if (followUs[0] != undefined) { followUs[0].classList.add('background-opacity'); }
// document.querySelector('.topbar-wrapper .image-element').classList.add('background-opacity');
var opac = document.querySelector('.content-page-wrapper.background-opacity'); opac.addEventListener("click", menuCloseClick);
var scrollPosY = window.pageYOffset | document.body.scrollTop;
setTimeout(function() { var topbarPanel = document.querySelector('.js-hidden-panel.active'); if (topbarPanel != null) { document.getElementsByClassName('navbar-wrapper')[0].style.marginTop = '121px'; } else if (scrollPosY <= topMarginForAd) { document.getElementsByClassName('navbar-wrapper')[0].style.marginTop = '-'+(topMarginForAd - scrollPosY-6) + 'px'; } else { document.getElementsByClassName('navbar-wrapper')[0].style.marginTop = '14px'; } }, 100); } function menuCloseClick() { document.getElementsByClassName('navbar-wrapper')[0].style.display = 'none'; document.getElementsByTagName('body')[0].style.overflow = 'unset'; var homeContainer = document.getElementsByClassName('content-page-wrapper'); if (homeContainer[0] != undefined) { homeContainer[0].classList.remove('background-opacity'); } var adPlaceholder = document.getElementsByClassName('ad-placeholder'); if (adPlaceholder[0] != undefined) { adPlaceholder[0].classList.remove('background-opacity'); } var followUs = document.getElementsByClassName('follow-us-wrapper'); if (followUs[0] != undefined) { followUs[0].classList.remove('background-opacity'); } document.querySelector('.topbar-wrapper .image-element').classList.remove('background-opacity'); } function addMenuClickListener() { var menuArrow = document.getElementsByClassName('menu-wrapper'); menuArrow[0].addEventListener('click', menuClick); } addMenuClickListener(); }); window.REBELMOUSE_TASKS_QUEUE.push(function(){ function fbvideoID(frame) { var myRegexp = /2F(d+)%/g; var match = myRegexp.exec(frame); return match[1]; } var fbIframe = document.querySelector('iframe[src^="https://www.facebook.com/plugins/video.php?"]'); if (fbIframe) {fvVidID = fbvideoID(fbIframe.getAttribute('src')); if (fvVidID) { fbIframe.insertAdjacentHTML("beforebegin", '
'); // fbIframe.parentNode.removeChild(fbIframe); } } var videoId = "promoted-video"; var oldFacebookVideo = document.getElementById(videoId); if (!oldFacebookVideo) { return }; var facebookVideoPost = oldFacebookVideo.closest(".widget"); if (!facebookVideoPost) { return };
var facebookVideo = facebookVideoPost.querySelector("#" + videoId); facebookVideo.classList.add("fb-video"); var firstPost = document.querySelector(".widget.post-partial");
function onScriptLoad() { FB.init({ appId: window.REBELMOUSE_BOOTSTRAP_DATA.fbId, version: window.REBELMOUSE_BOOTSTRAP_DATA.fbAppVersion, status: true, cookie: true, }); FB.XFBML.parse(); if(fbIframe){ fbIframe.parentNode.removeChild(fbIframe); } }
function loadFacebookScript() { var existingScript = document.querySelector('script[src="https://connect.facebook.net/en_US/sdk.js"'); if (!existingScript) { var script = document.createElement("script"); script.src = "https://connect.facebook.net/en_US/sdk.js"; document.head.appendChild(script); script.addEventListener("load", onScriptLoad); } }
function intersectorCallback(video_player) { var booted = false; var totalSeconds = 0; var interval = null;
function impressionCounter() { totalSeconds++; console.log("I've been watching for " + totalSeconds + " seconds"); } return function intersector(entries) { var entry = entries[0]; if (entry.isIntersecting) { if (!booted) { booted = true; video_player.mute(); video_player.play(); } interval = setInterval(impressionCounter, 1000); } else { if (interval) { console.log("I've stopped watching at " + totalSeconds + " seconds"); clearInterval(interval); interval = null; } } }; }
function trackVideo(video_player) { var observer = new IntersectionObserver(intersectorCallback(video_player), {}); observer.observe(facebookVideo); }
function onFacebookElementLoaded(msg) { if (msg.type === "video" && msg.id === videoId) { trackVideo(msg.instance); } }
function onFacebookReady() { FB.Event.subscribe("xfbml.ready", onFacebookElementLoaded); if (window.oldFacebookWaiter) window.oldFacebookWaiter(); }
if ("FB" in window) { onFacebookReady(); } else { window.oldFacebookWaiter = window.fbAsyncInit; window.fbAsyncInit = onFacebookReady; loadFacebookScript(); }
});
window.REBELMOUSE_TASKS_QUEUE.push(function(){
REBELMOUSE_STDLIB.createElementChangeListener(".mb-2", function(item){ checkSponsoredPost(); })
});
window.REBELMOUSE_LOWEST_TASKS_QUEUE.push(function(){
var tags = [ 'https://pymx5.com/scripts/ready.js', 'https://pymx5.com/scripts/ims.js', 'https://pymx5.com/scripts/load_tags.js' ]
function l() { if (tags.length) { var tag = tags.pop(); var script = document.createElement('script'); script.setAttribute('src', tag); script.onload = l; document.body.appendChild(script); } else { window.ia = window.ia || function () { (window.ia.q = window.ia.q || []).push(arguments); } ; ia('track', 'PAGE_VIEW');
docReady(function() { ims.startServices(); } ); } }
l();
});
window.REBELMOUSE_LOWEST_TASKS_QUEUE.push(function(){
window.REBELMOUSE_STDLIB.loadExternalScript("https://ats.rlcdn.com/ats.js", function() {
ats.start( { "placementID": 103, "storageType": "localStorage", "detectionType": "scrape", "cssSelectors": [ "input[type=text]", "input[type=email]" ], "logging": "error" });
});
});
window.REBELMOUSE_LOWEST_TASKS_QUEUE.push(function(){
window.REBELMOUSE_STDLIB.loadExternalScript("https://www.googletagmanager.com/gtag/js.js?id=UA-30098361-1", function() {
window.dataLayer = window.dataLayer || []; /*function gtag(){dataLayer.push(arguments);} gtag('js', new Date());
gtag('config', 'UA-30098361-1', {'optimize_id':'GTM-P5TSK62'});*/
});
});
window.REBELMOUSE_LOWEST_TASKS_QUEUE.push(function(){
!function(f,b,e,v,n,t,s) {if(f.fbq)return;n=f.fbq=function(){n.callMethod? n.callMethod.apply(n,arguments):n.queue.push(arguments)}; if(!f._fbq)f._fbq=n;n.push=n;n.loaded=!0;n.version='2.0'; n.queue=[];t=b.createElement(e);t.async=!0; t.src=v;s=b.getElementsByTagName(e)[0]; s.parentNode.insertBefore(t,s)}(window, document,'script', 'https://connect.facebook.net/en_US/fbevents.js'); fbq('init', '1676218835946757'); fbq('track', 'PageView');
});
window.REBELMOUSE_LOWEST_TASKS_QUEUE.push(function(){
function triggerComscorePageView() { console.log('triggerComscorePageView'); window.COMSCORE && COMSCORE.beacon({c1: "2", c2: "18736521"}); fetch("https://www.upworthy.com/res/3rdparty/comscore_pageview"); }
if (typeof rblms !== 'undefined') { rblms.require(['core/event_dispatcher'], function(eventDispatcher) { eventDispatcher.on('viewRegistry:initViews', triggerComscorePageView); }); }
document.addEventListener('click', event => { if (event.target && event.target.classList.contains('show-more')) { triggerComscorePageView() } });
urlChangeHandler(triggerComscorePageView);
});
window.REBELMOUSE_LOWEST_TASKS_QUEUE.push(function(){
(function() { try{var a={l1:document.location.host.replace(/^www./,""),l2:document.title||"Untitled",l3:"__page__",l4:"-",sa:"",sn:""},b=[],c;for(c in a)b.push(c+"="+encodeURIComponent(a[c]));b=b.join("&");(new Image).src="https://d26n2uyu5tcx3y.cloudfront.net?a=5ac31c1640c74c36900b97047f570f19";var d=document.createElement("script");d.type="text/javascript";d.async=!0;var e=document.getElementsByTagName("script")[0];e.parentNode.insertBefore(d,e);d.src="https://z.moatads.com/upworthy105Vonz37/moatcontent.js#"+b}catch(f){try{var g= "//pixel.moatads.com/pixel.gif?e=24&d=data%3Adata%3Adata%3Adata&i=MOATCONTENTABSNIPPET1&ac=1&k="+encodeURIComponent(f)+"&j="+encodeURIComponent(document.referrer)+"&cs="+(new Date).getTime();(new Image).src=g}catch(h){}}; })();
});
window.REBELMOUSE_LOWEST_TASKS_QUEUE.push(function(){
(function(w,d) { w.kwa || (w.kwa = function()
{ (w.kwa.q = w.kwa.q || []).push(arguments); } ); se = d.createElement('script'), fs = d.scripts[0]; se.src="https://cdn.keywee.co/dist/analytics.min.js"; fs.parentNode.insertBefore(se,fs) }(window, document));
kwa('initialize',603);
});
window.REBELMOUSE_LOWEST_TASKS_QUEUE.push(function(){
(function(h,o,t,j,a,r){ h.hj=h.hj||function(){(h.hj.q=h.hj.q||[]).push(arguments)}; h._hjSettings={hjid:1648575,hjsv:6}; a=o.getElementsByTagName('head')[0]; r=o.createElement('script');r.async=1; r.src=t+h._hjSettings.hjid+j+h._hjSettings.hjsv; a.appendChild(r); })(window,document,'https://static.hotjar.com/c/hotjar-','.js?sv=');
});
window.REBELMOUSE_LOWEST_TASKS_QUEUE.push(function(){
window.REBELMOUSE_STDLIB.loadExternalScript("https://embed.actionbutton.co/widget/widget.min.js", function() {
window.ActionButton.whenButtonLoaded('action_button_container').then(window.ActionButton.loadButton('action_button_container','SPK-QkdERQ=='));
});
});
window.REBELMOUSE_LOWEST_TASKS_QUEUE.push(function(){
let asd=false
}); .Source