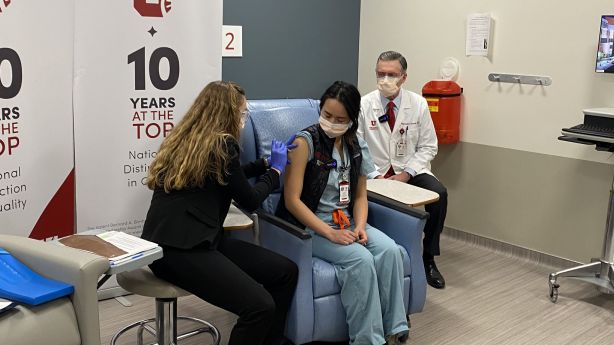 SALT LAKE CITY – Five University of Utah health professionals were the first Utahns to receive the COVID-19 vaccine on Tuesday outside of a clinical trial.
The vaccination took place Tuesday morning at the University of Utah Hospital. Christy Mulder, an intensive care unit nurse, was the first to receive the vaccine in Utah, U. health officials said on Twitter.
Healthcare assistant Diana Navarrete, environmental services worker Maria Cuevas, emergency room Dr. Stephen Hartsell and respiratory therapist Brad Thompson were all vaccinated shortly after Mulder.
"It's an overwhelming day today, a lot of emotions," Mulder said at a press conference Tuesday after the vaccinations. "I am excited about the next step we are taking to end this painful pandemic."
Christy, a MICU nurse at U of U Health, is the first person in Utah to receive the COVID-19 vaccination. pic.twitter.com/brU0XtRmKs

– University of Utah Health (@UofUHealth) December 15, 2020
Primary health workers are the first to receive the vaccine this month. Residents and staff of long-term care facilities, as well as teachers, will also be part of the first wave of Utahns to be vaccinated, health officials said. About 154,000 doses of the vaccine are expected to arrive in Utah this month.
Intermountain Healthcare will also begin vaccinations for employees at LDS Hospital in Salt Lake City this afternoon.
Kavish Choudhary, senior director of the U. health pharmacy, on Tuesday described the "massive effort" to prepare the vaccine for administration.
The vaccine arrived in a surprisingly small box around 7 a.m. on Tuesday, he said. The doses were transported to the U. hospital about an hour later and had to be kept in the freezer for about two more hours before they could be administered, he added.
"A bit of a whirlwind morning," Choudhary said.
Another 25-30 US health workers will be vaccinated Tuesday, Choudhary said. Several hundred workers will be vaccinated on Wednesday.
On Thursday and Friday, the U. will expand to open a larger workers vaccination clinic, Choudhary added. Those clinics will have 15 people administering the vaccine, and they will be able to vaccinate one worker every 10-15 minutes, he said.
The pharmacy staff are still getting used to the COVID-19 vaccine vials, which are different from what they are used to, Choudhary said.
This story is being updated.
×
More stories you may be interested in