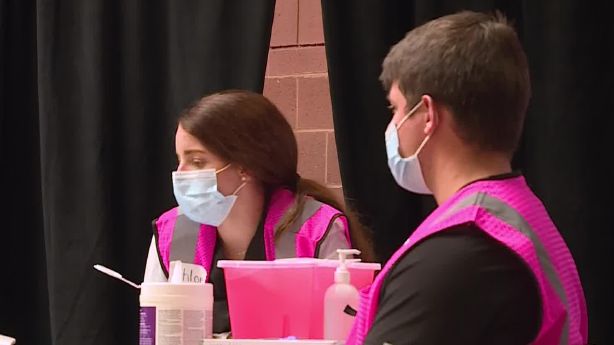 MURRAY – A few school districts in Utah have started giving high school students 16 and older the COVID-19 vaccine, while other districts have explored the idea.
A public health expert cited several critical reasons why the community needs the teens to roll up their sleeves.
"We need everyone to give us immunity," says Dr. Tamara Sheffield, Intermountain Healthcare Community Health and Prevention Medical Director.
Health departments in Summit County and Tooele County began setting up Pfizer vaccine clinics in the high schools for students with parental consent.
Canyons School District officials said they were investigating the idea after a survey was sent to parents.
Many age-eligible students at Park City High School did their part on Monday by getting their first dose of the Pfizer vaccine.
Sheffield said the vaccine was important for teens because it would protect the students themselves from the virus.
"It is definitely something that will protect them," Sheffield said.
In Utah, more than 300 children were hospitalized with COVID-19 during the pandemic, and nearly 300 children died of complications across the country.
Sheffield said children were vectors of the disease, meaning they need to be vaccinated to break the transmission of the virus and protect those around them from getting sick.
"We need to protect them so that they don't pass the disease on to those who may be more vulnerable to the disease and its complications," she said.
Utah cannot get herd immunity, Sheffield said, if children are excluded from the vaccine because the state's population is young. Children represent nearly 30% of the population, compared to just 22% nationwide.
"Because we have so many children in our state, we need their numbers to ensure that we collectively prevent the disease from spreading to those who may not be able to get vaccinated, or whose immune systems are not responding as well to the vaccine," Sheffield said.
Pfizer trials are coming for younger kids.
Sheffield believes the vaccine may be available for children ages 12 to 15 in the early summer and for children under 12 in the late summer to early fall.
Related Links
related stories
More stories you may be interested in