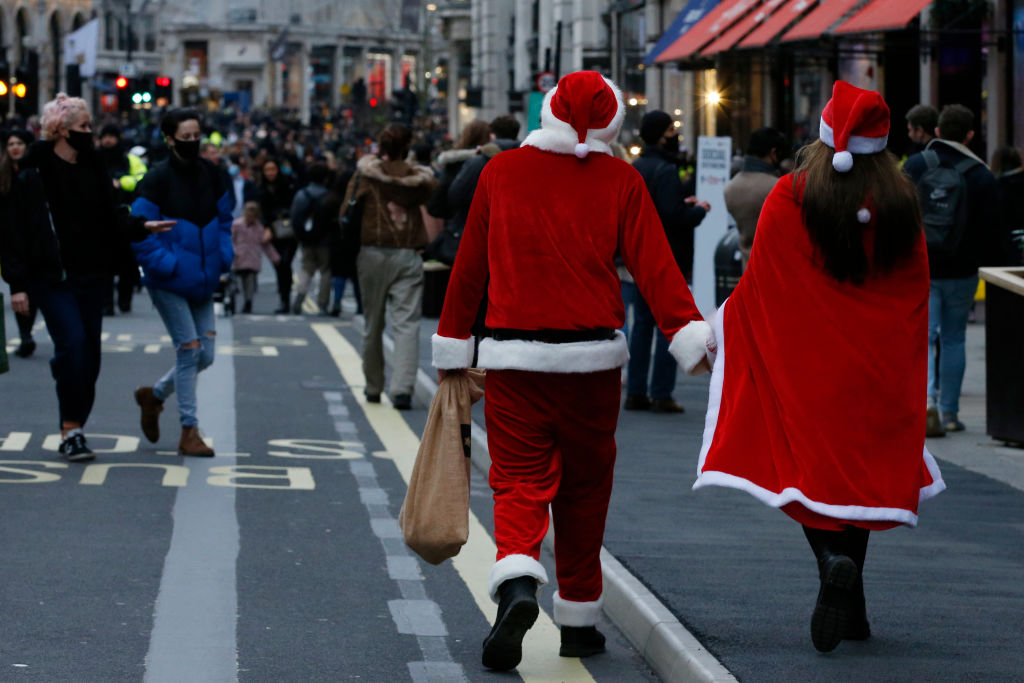 Plans to get people across the UK to meet and celebrate Christmas together are at stake after medical experts warned it "will cost lives".
The government in England, according to plans agreed with the decentralized administrations of Scotland, Wales and Northern Ireland, will suspend restrictions for five days so that up to three households can form a "Christmas bell" and meet between 23 and 27 December.
British Health Minister Matt Hancock told a press conference in Downing Street that it remains the government's intention to allow the five-day relaxation of social distance rules over Christmas, but warned people to be 'extremely careful' if they hope to meet the elderly or the vulnerable. family members.
Professor Chris Whitty, the nation's top medical officer, also urged caution, saying, "The feeling was that this was a very important time for families, but – and the big, big but at this point – the degree of impact who will have this is completely related to the number of people choosing to do this in a very, very minimalist responsible way. "
Two leading medical journals went further, arguing that government ministers in the UK should "follow the more cautious examples of Germany, Italy and the Netherlands" and not relax the rules.
In a rare joint editorial, the British Medical Journal (BMJ) and Health Service Journal (HSJ) said the government should "reverse its rash decision to allow household mixing and instead extend levels. [England's current method of restrictions] during the five-day Christmas season, "The government is about to blunder in another big mistake that will cost many lives," the diaries warned.
The main impact of a further rise in the number of COVID-19 patients, the magazines say, will likely be most felt by those with other conditions who may see treatments or surgeries delayed as staff and resources will have to be diverted to COVID patients. to treat. This is in addition to the major problem of staff absenteeism.
Latest digits calculated by Newsweek suggest that up to 39,000 * NHS employees are currently out of work due to COVID-19 in the UK, either due to illness or self-isolation after coming into contact with a positive cause.
HSJ editor Alastair McLellan explains Newsweek that if the Christmas stop in restrictions leads to an increase in the number of cases in the New Year, it will hit at the same time as the general peak of workforce illness, which also happens to be the busiest time of the year for the NHS.
"What we've seen, you start showing symptoms about a week after infection and if you get sick enough for the hospital, it's usually about two weeks after that," he says. As we see now, the infections are on the rise about two weeks after December 2 [when lockdown ended in England] so yes, the influx of Christmas patients will be in mid-January, and that's at the height of staff illness anyway. "
It is up to individual NHS Trusts to determine whether staff treating patients for other conditions will be redeployed to address COVID, and despite NHS leaders' reluctance to take such a move, McLellan says, "If you now looking at the numbers, they are going to be so big, so fast. People are definitely going to have to start doing that soon, if they aren't already. "
A spokesman for No. 10 said the government "has no plans to revise the Christmas guidelines," but Sky News reports that Minister Michael Gove will speak to leaders in Scotland, Wales and Northern Ireland about the relaxation, leaving many wondering if the government will reverse the plans.
If this happens, the broadcaster lists possible alternative options, such as reinforcing messages about staying safe, reducing the number of days or households to which the relaxation applies, or even shifting the five-day break to a later date.
It comes after Hancock told British lawmakers in the House of Commons that a new variant of the COVID-19 virus linked to more rapid spread of the disease has been identified in southern England, where the number of cases is increasing exponentially. Average daily hospital admissions in the UK have increased by 13 percent in the past week and the average daily number by 14 percent, the health secretary said.
London, parts of Essex and southern Hertfordshire in the south of England will now face the strictest restrictions under "tier three" of the UK Government's COVID regulations, just two weeks after emerging from a second national lockdown.
Given the increase in infections, if much of the population benefits from government policy at Christmas, there is a "very real danger of a third wave of the pandemic," experts have warned.
Writing in the BMJ, the Independent Scientific Advisory Group for Emergency (iSAGE) which is separate from the government's pandemic scientific advisory group (SAGE), also called for a reconsideration in light of rising infection rates in parts of the UK
The group urges people not to consider meeting outside rather than indoors when possible, and that the government supports this through a fund for community outdoor activities. There could also be a "pandemic fuel surcharge," so people can keep their homes ventilated while turning up the heating to keep warm, iSAGE said.
Stephen Reicher, a professor of psychology at the University of St. Andrews and a member of iSAGE, said in the BMJ: "The government has said three households can mix, but 'can' doesn't mean 'should'. We're across the country at high infection levels From that base, if we mix, and if everyone benefits from mixing three households, then there's no question that the infection rate will rise and we will regret it in the new year.
"Not only will people die, but it will overwhelm the NHS at a time when we are trying to roll out the vaccine. The safest by far is not to mix. If people decide to meet, then there must be clear guidelines. to maintain safe and clear support. "
British Prime Minister Boris Johnson has been urged by opposition leader Sir Keir Starmer to "rethink" about relaxing the rules. In a letter to Johnson, Starmer said that while he understood people want to spend time with their loved ones after a "horrible year," the situation "has clearly taken a turn for the worse since the Christmas decision was made."
* Study methodology and notes
Using the latest data from the NHS:
In Northern Ireland, 819 NHS employees were recorded as absent due to COVID-19 disease or self-isolation in the week to December 7.
In Scotland, 2,766 NHS employees were absent due to COVID-19 until December 8.
In England, up to December 2, 32,280 NHS employees were absent due to COVID-19, either through illness or through self-isolation.
In Wales, approximately 3,076 NHS employees were absent due to COVID-19 until December 7. Wales presents its data as a percentage. Of the 85,458 NHS employees working in Wales, 1.4 percent (1,196) were unemployed due to COVID-19 disease, while 2.2 percent (1880) were recorded as unemployed due to self-isolation.