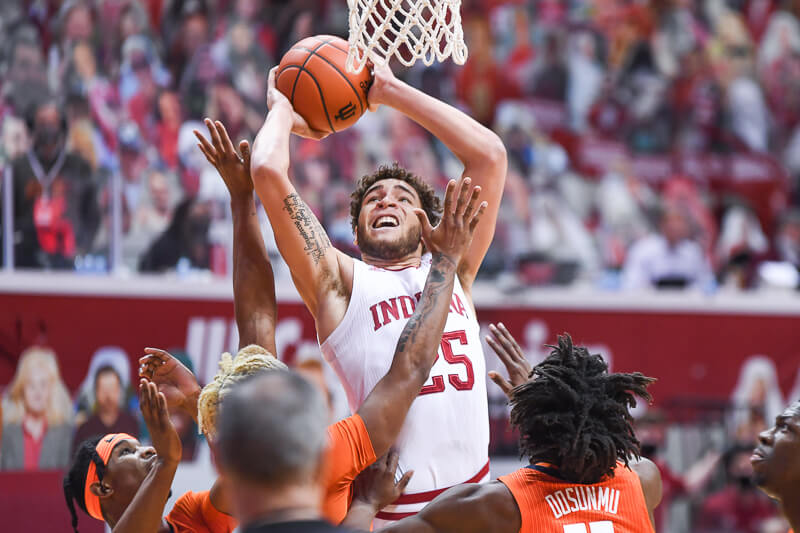 Indiana forward Race Thompson returns to the Hoosiers for the 2021-22 season.
Thompson announced this on social media on Thursday.
The Minnesota native was one of six Indiana players to enter the NCAA transfer portal following Archie Miller's resignation at the end of the 2020-21 season. While in the transfer portal, the 6-foot-8 forward had significant interest from high schools, including Minnesota.
As a junior redshirt, Thompson was named team captain, scoring an average of 9.1 points and 6.2 rebounds per game. He was one of two IU players to start all 27 games.
Thompson had career highs of 22 points and 13 rebounds in a 79-58 victory over Providence on November 30 at the Maui Invitational in Asheville.
At the end of last season, Thompson wore a protective face mask after being accidentally hit in practice.
Thompson has over 65 career games for the Hoosiers averaging 5.5 points and 4.6 rebounds per game. His return is another recruiting victory this spring for new coach Mike Woodson, who is working to curate his first Indiana roster for the 2021-2022 season.
So far, four of the six Hoosiers who have entered the NCAA transfer portal have opted to return to Bloomington next season. The only IU player from last season's roster to remain in the portal is Guard Armaan Franklin.
Archived to: Race Thompson