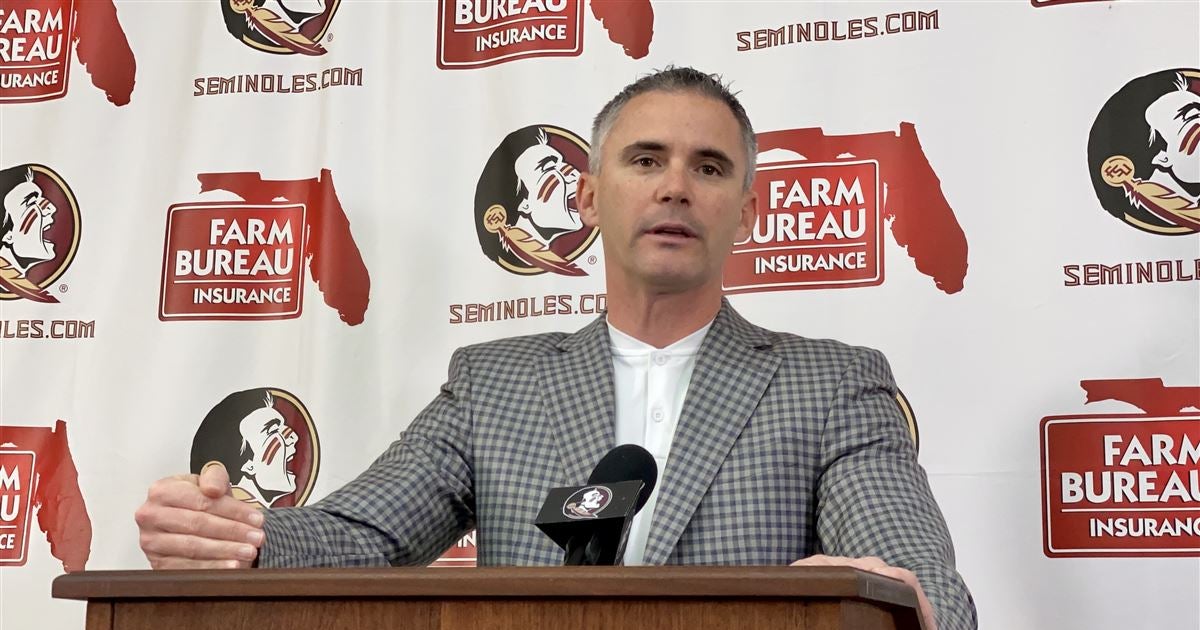 TALLAHASSEE – Florida state signed 15 high school commitments and added transfer strategist McKenzie Milton up to and including the first day of the early signing period. The early signing period for high school prospects lasts until the end of Friday, while junior college prospects and transfers can make up their minds well into the new year and enroll in January, if they wish.
With the calendar a little open for more decisions and a few goals still available, as well as a transfer portal getting busier by the day, FSU could look to build on the players they have announced so far.
"Excited about the 16 guys we were able to sign and announce today. You could have a few more in the next few days, but as we continue to evaluate and work through, this class is certainly fulfilling the needs we have," Mike Norvell said Wednesday afternoon.
Recruitment coordinator David Johnson explained what the class could be when it comes to grades.
"Basically we can enroll up to 25 in this class," said Johnson. "We want to make sure we do it right. We want to make sure we have the right numbers. We now have 16 and we expect a few more men to sign this weekend. But 25 is our number, don't try it. to discuss that. "
So with about 10 places left, how will FSU navigate in the coming days, weeks and months?
"Keep getting quality players who can pass," said Johnson. "You never turn down offensive linemen. Always look for good quality offensive linemen. The same goes for defensive linemen. And if you find a home run hitter from the receiving spot or the back spot, you can't pass up great players."
Recruitment isn't the simple concept it was just a few years ago, when the focus was largely on high school prospects, with one or two goals in high school. Now with revised NCAA rules, and essentially free agency, the transfer portal plays a big part. For a team like FSU, whose roster is under review and in full transition, the portal can bring immediate relief and improvement in some positions. Finding a balance between dividing numbers is a never-ending conversation at recruiting meetings.
"That was one of the interesting dynamics of this recruiting cycle, it's the first year of the transfer portal and the opportunity for immediate eligibility. Making sure we explore all options in that regard. We have certain needs," Norvell said.
"As we go through this process, it's still about finding the right fit," he continued. "Offensive skill positions are something we're still going to evaluate. Excited about some of the possible options out there on the offensive line. And also a few defensive positions. I think we're handling this new era of recruiting really well, giving ourselves a lot of flexibility with that."
"We really try to plan all those things and leave ourselves great options as we move forward," he said later when talking about the addition of Milton and the impact on the quarterback room.
Norvell went into some of the details regarding their remaining needs. He was asked to add some real defensive tackle as FSU announced several defensive linemen on Wednesday, but none that played a primary role upon arrival inland. Guys like Orlando (Fla.) Boone four star defensive lineman Shambre Jackson and Havana (Fla.) The three-star defensive lineman of Gadsden County Joshua Farmer let the frames develop into interior rolls if necessary.
"As we go through our process, you look at guys, their frames, the growth potential. We want to be fast. We want to be explosive. Obviously, the size and strength of what these guys possess gives them a lot of versatility as they We're moving forward. We're going to continue with the process. It absolutely may take a man to sign that this is just an internal player, but then again, we also have some guys here on the roster who we think are could, as they continue to grow with that capability, "said Norvell of defensive tackle. "I think we are in a really good place. You look at the group of defensive tackles we have on the roster, many sophomores and younger. I think we are in a good place now. We will continue to evaluate that here. forward. "
A target of the top defensive tackle for the Seminoles is the Catholic Four Star from Oradell (NJ) Bergen Tywone Malone, which has no intention of deciding before National Signing Day in February. FSU competes with Ole Miss and others for the 6-foot-3.5, 300-pound defensive lineman. He is expected to visit the FSU before making his final decision.
Norvell also spoke about the wide receiver position, where FSU only added Blythewood (SC) three stars Joshua Burrell on Wednesday. The Seminoles have become dangerously thin in that position late this season, as players have switched, left the program, or were unavailable for other reasons.
"We will probably try to sign, I would say maybe three more recipients," Norvell shared. "There are still a few days into high school signing and even leading up to January when we go to school with potential opportunities for those things.
"Then we have a few things that we also look forward to for the signing period in February," Norvell continued.
Johnson, who also coaches the running backs and has experience working with wide receivers, reiterated the need to find the right guys in offensive skill positions.
"We just have to wait and see," Johnson said. "Our main thing is to make sure we find a playmaker. We've got to find one or two playmakers. We'll cross our fingers, toes and everything else to make this happen for us."
FSU is in the mix with several broad receivers, including a few that are expected to rule in the very near future. Bradenton (Fla.) IMG Academy four star wide receiver Malik McClain, a former FSU pledge, will reveal its decision on Friday. It is believed to be between Ole Miss and FSU. Itawamba CC 3-star wide receiver In terms of Davis expected to announce Saturday. FSU was in a good position with Davis, but a bid on Wednesday from Ole Miss has resulted in the rebels being seen as the team on the rise at this point.
New Orleans (La.) Edna Karr four star Destyn Hill expected to wait until February to decide. Another player like Lehigh Acres (Fla.) Lehigh three star athlete Tar'varish Dawson, an Auburn pledge waiting until February to sign, may also be of service to wide receiver. FSU offered a short while ago and has remained interested as he has taken a patient approach in signing the coaching changes at Auburn.
Also, there's another offensive playmaker FSU in the mix with who plans to wait until February: Ruston (La.) Four Star Walking Back Ke'Travion Hargrove.
Obviously, additional targets may emerge, including new names entering the transfer portal.