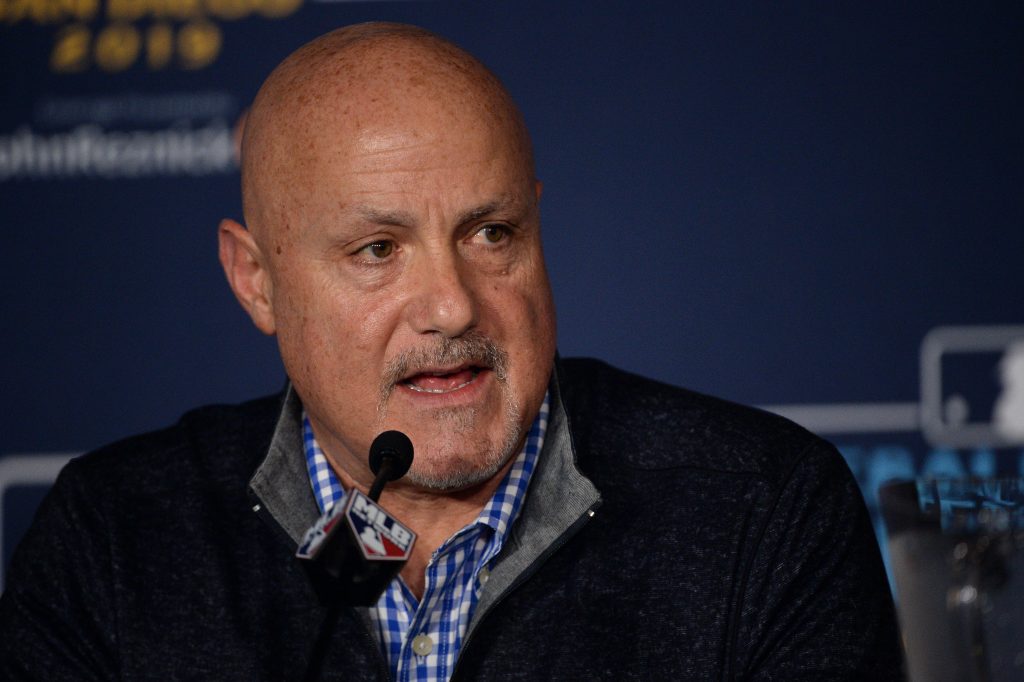 While the Nationals don't seem to be chasing the Cubs third baseman / outfielder Kris Bryant In a trade, general manager Mike Rizzo has an interest in landing a big bat before the 2021 season begins.
Rizzo spoke to MASNsports.com's Mark Zuckerman and other reporters on Tuesday and said the Nationals "Make offensive production a bit more of a priority this low season," and property does not prevent him from spending on aid. Rizzo left the door open for the team to tackle multiple positions, though he "downplayed" third base and the catcher as blatant holes, Zuckerman writes. That would be high-profile free agents like Justin Turner and JT Realmuto.
Where could the Nationals look instead? According to Rizzo: "I think we are versatile in that it doesn't have to be strictly a right fielder or strictly a left fielder. But an outfielder in the corner completing the line-up, or a first baseman, would be the smoothest transition, as those are positions of distress. With that said, you can get creative and get a bat in all kinds of ways. And with a little bit of maneuvering, we would feel comfortable doing it in all sorts of different creative ways. "
The Nationals have set two-thirds of their starting field with a superstar Juan Soto and Victor Robles, but it is unclear who will replace the deceased Adam Eaton in the other place. George Springer, Marcell Ozuna, Michael Brantley and Joc Pederson seem to be the most sought after free agents. It is not known whether the Nationals have shown interest in them, but they do have the recent non-tenders Kyle Schwarber on their radar. Schwarber's production took a huge dip in 2020, but he was an above-average hitter in the two previous seasons.
Meanwhile, the stable of free first basemen doesn't look particularly exciting. Washington made an attempt to sign Carlos Santana, although he ended up with the Royals. Versatile infielder DJ LeMahieu would be able to play the position regularly if given the chance, but the Nats are reportedly not going after him. Old Nat Ryan Zimmerman (who unsubscribed from last season), CJ Cron, Mitch Moreland, Tommy La Stella, Jake Lamb and Justin Smoak are some other available names. There are certainly no stars in that group. Nevertheless, it shouldn't be too difficult to upgrade over last season's Nats first basemen, as each of Eric Thames, Asdrubal Cabrera and Howie Kendrick managed below average production.
On the pitching side, the Nationals' rotation went from one of the league's best during their 2019 World Series-winning season to a disappointment during a disastrous '20 for the team. It didn't help, of course, that Washington had to do without a right hand Stephen Strasburg, which treated carpal tunnel syndrome and was only five innings for the season. Strasbourg underwent surgery in September, but Rizzo expects it to be "Full-go for spring training" (via Byron Kerr from MASNsports.com).
Strasburg still has six years on his contract while he is co-ace Max Scherzer enters the final season of the seven-year $ 210 million deal he signed in 2015. That's one of the most successful high-budget signings ever, although another deal doesn't seem imminent. Rizzo revealed there were none "Any substantive conversations about an extension for Max, as far as I know," but he added that it "Could be at property level" and noted that extensions often come together during the spring.
Regardless of whether Washington extends 36-year-old Scherzer, he will continue his rotation with Strasburg and Patrick Corbin next year. The rest of their first five are on the air, but Rizzo has hinted that he will prioritize adding a veteran No. 4 starter after addressing the team's lineup, according to Kerr. As for the number 5 role, manager Dave mentioned Martinez Joe Ross, Austin Voth and Erick Fedde as in-house possibilities. He is especially high on Ross and says: "I want Joe on the rotation." Ross retired last season due to health concerns, but the 27-year-old plans to return in 2021.