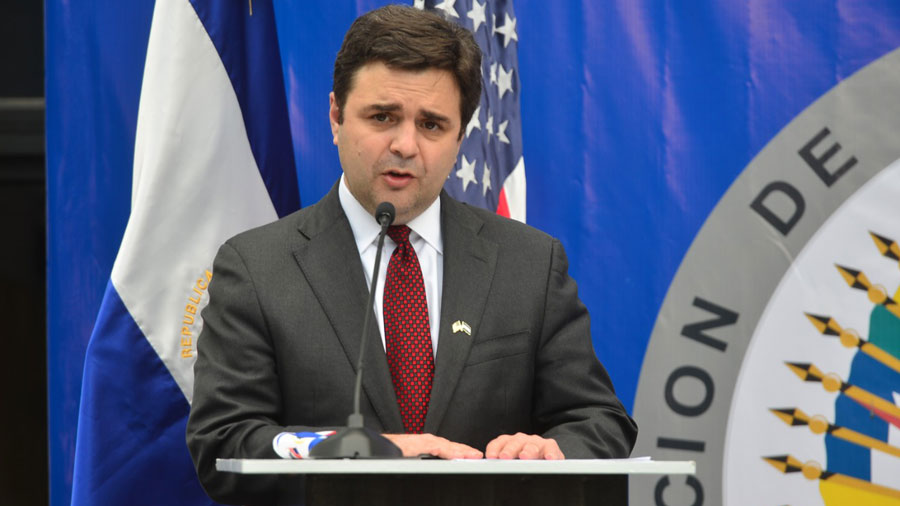 However, the US embassy's head of Public Affairs stressed that Ricardo Zúñiga had a "productive meeting" with Secretary of State Alexandra Hill and that they committed to strengthening the bilateral relationship.
On his first day in the country, President Joe Biden's envoy failed to meet the president of the Republic, Nayib Bukele.
Zúñiga held meetings with representatives of institutions that control the branches of the state. US Embassy Charge d'Affaires Brendan O'Brien posted on his Twitter account that "Special Envoy Zúñiga's agenda continued with a priority issue for the Biden administration during a meeting with members of the Interinstitutional Anti-Corruption Working Group of El Savior ".
SEE: The United States Announces a $ 2 Million Contribution to the CICIES to Strengthen the Fight Against Corruption
The message was accompanied by a photo featuring the heads of the Government Ethics Tribunal, the Supreme Court of Justice, the Attorney General's Office, the Institute for Access to Public Information, the Court of Accounts and the Attorney General's Office. "These institutions are key to fighting the scourge of corruption," the US diplomat added.
Later on, O'Brien shared images of the encounters that he had with the Attorney General and Chief of the CICIES, Ronalth Ochaeta; with representatives of civil society organizations fighting corruption; with the Secretary of State, Alexandra Hill; and with well-known Salvadoran businessmen.
The mission has focused precisely on the causes that the Biden government has identified as triggers for irregular migration: corruption, weakening of democracy, insecurity and lack of economic opportunity.
In Guatemala, where Zúñiga was on April 5 and 6, a similar agenda was carried out, but unlike El Salvador, Biden's envoy managed to get Alejandro Giammattei en with numerous members of his cabinet.
The embassy hopes that there will be a new opportunity to meet
The head of public affairs at the US Embassy, ​​Matt Boland, told El Diario de Hoy that "Special Envoy Zúñiga expected to meet with President Bukele during his visit to El Salvador and that a meeting was requested." Boland added that they hope that another opportunity will arise in the future.
However, he confirmed that Zúñiga had a "productive meeting" with Secretary of State Alexandra Hill and that they will continue to fight to strengthen the bilateral relationship and prosperity of Salvadorans.
In addition: Joe Biden's envoy in Guatemala reiterates that it is a US priority to strengthen democracy in the Northern Triangle