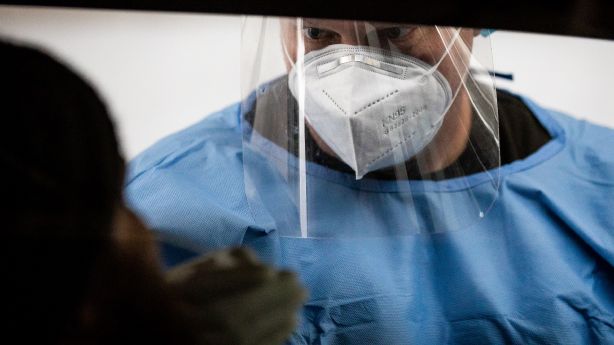 SALT LAKE CITY – The number of COVID-19 cases in Utah has stabilized in the past month after a steady decline. Doctors at University of Utah Health said there are also early signs in the data that we are likely to see another rise in new cases. But right now they believe the vaccines can stop the virus.
"We fully expect cases to increase. Hopefully not to the extent we've seen in Michigan and some other states, because Utah is doing such a good job with vaccinations," said Dr. Russell Vinik, University of Utah Health. Chief Medical Operations Officer
The U of U Health COVID-19 testing clinic on Redwood Road has seen an increase in the number of cases in recent weeks. In general, numbers are few. But Vinik calls it an early indicator that we may be in for a rise. It is a disadvantaged neighborhood on the west side with a higher proportion of Latin American residents. During the pandemic, an increase in the number of cases there usually indicated an increase elsewhere.
The data also shows an increase in COVID-19 in the counties of Weber, Morgan, Davis and Wasatch.
Vinik said the resurgence can be attributed to the UK variant, which now accounts for 40% of new cases in the University of Utah hospital system.
"The percentage of people who come in symptomatically and test positive is starting to creep up," the doctor said. "That's usually the first sign we see before we start seeing more and more cases, and a higher percentage of people are turning positive."
The virus remains opportunistic in its endless search for a new host.
"It just wants to find the next person to jump to. I don't care. So if an area sees an acceleration of cases, it's more likely to spread to other people," said Erin Clouse, MPH, strategic. engagement manager for U of U Health.
Fortunately, more than 50% of people over 16 in Utah have been vaccinated, and the number continues to grow.
As the race between the variants and the vaccines develops, what is preventing Utah as they see in Michigan?
Vinik says a higher percentage of Utahns were exposed to the virus, which gave them protection, and, "We've been able to get a lot more people vaccinated, and if that wave comes, it will be later when we have a larger proportion of our population. has been vaccinated, "said Vinik.
That's why they urge Utahns to continue to take preventive measures to avoid the virus and get vaccinated.
×
related stories
More stories you may be interested in