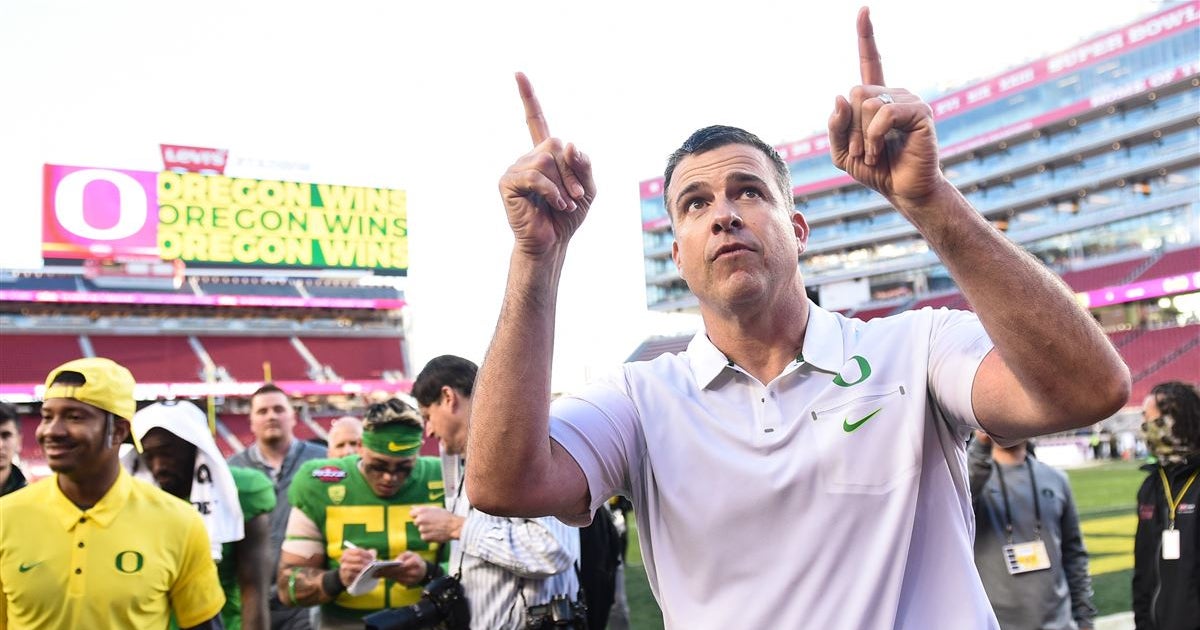 Wednesday was a good day for the Oregon football program. The Ducks inked 20 of the best recruits in the country and did so without "drama," as Oregon's head coach Mario Cristobal put it.
The Ducks spoke a lot in the class – which is sixth nationally and first in the Pac-12 according to 247Sports. The greatest pull occurred in violation. Oregon added four-star recruits as quarterback, running back, wide receiver (three of them), offensive line (four), and tight end (two). They also added some elite defensive players across all three levels – five in all.
"In short, just a great, great National Signing Day and a little more room to get an even bigger class," Oregon coach Mario Cristobal told media members Wednesday evening.
As Cristobal acknowledged, the Ducks still have scholarships to keep adding to this class. It will probably end even better. In total, Oregon still has between three and five fellowships to work with this cycle.
Four-star linebacker Jonathan Flowe, Justin's younger brother, is a verbal commitment that will delay signing until his academics are okay. He is expected to include one of them. Oregon also saw JUCO corner Jadarrius Perkins open recruitment just before signing the day. He'll announce his decision at Christmas, and the ducks aren't quite after him either.
How can they use that extra space?
Cristobal identified three areas of the team that he suggested could use more bodies. These are edge defensive players, offensive and defensive linemen and players in the defensive secondary.
"We want to be the most dynamic in the country on the outskirts. We also always want to invest in the lines when we can," he explained during his 20-minute press conference. "We really thinned in certain positions at the back. Especially earlier in the year we were. We want to strengthen it."
But the Ducks also have the luxury of approaching the remaining stock markets from a different perspective. Having discussed every position on the team (aside from the quarterback and running back) a few times already, there is now room to simply consider it the best player, regardless of position, he said.
"There is also one aspect that is best available," he explained. "We feel good in certain positions, in others it's almost like 'okay, we have room if he's elite, if he's going to be a guy who'll find a way to play anyway'."
The ducks are also not limited in their method of acquisition. Although the current 20 player class includes high school recruits, Cristobal did not rule out adding players in different ways to fill in the additions.
"There are a lot of opportunities that come with the one year rule going into effect, grad transfers are coming. There is a lot. We still have places available, "he began." We will have between all different paths: grad transfer, transfer portal and guys we are still recruiting. I mean, overseas recruitment has picked up a ton now. Heck, Henry Katleman is a footballer who came by and played football. You just never know.
"But we are certainly always looking for the best talent available."
Sign up for the FREE DuckTerritory.com newsletter and receive all your Oregon news delivered straight to your email inbox daily.
If you are not a VIP subscriber to DuckTerritory.com, please consider Sign up today and get a year for less than $ 50!