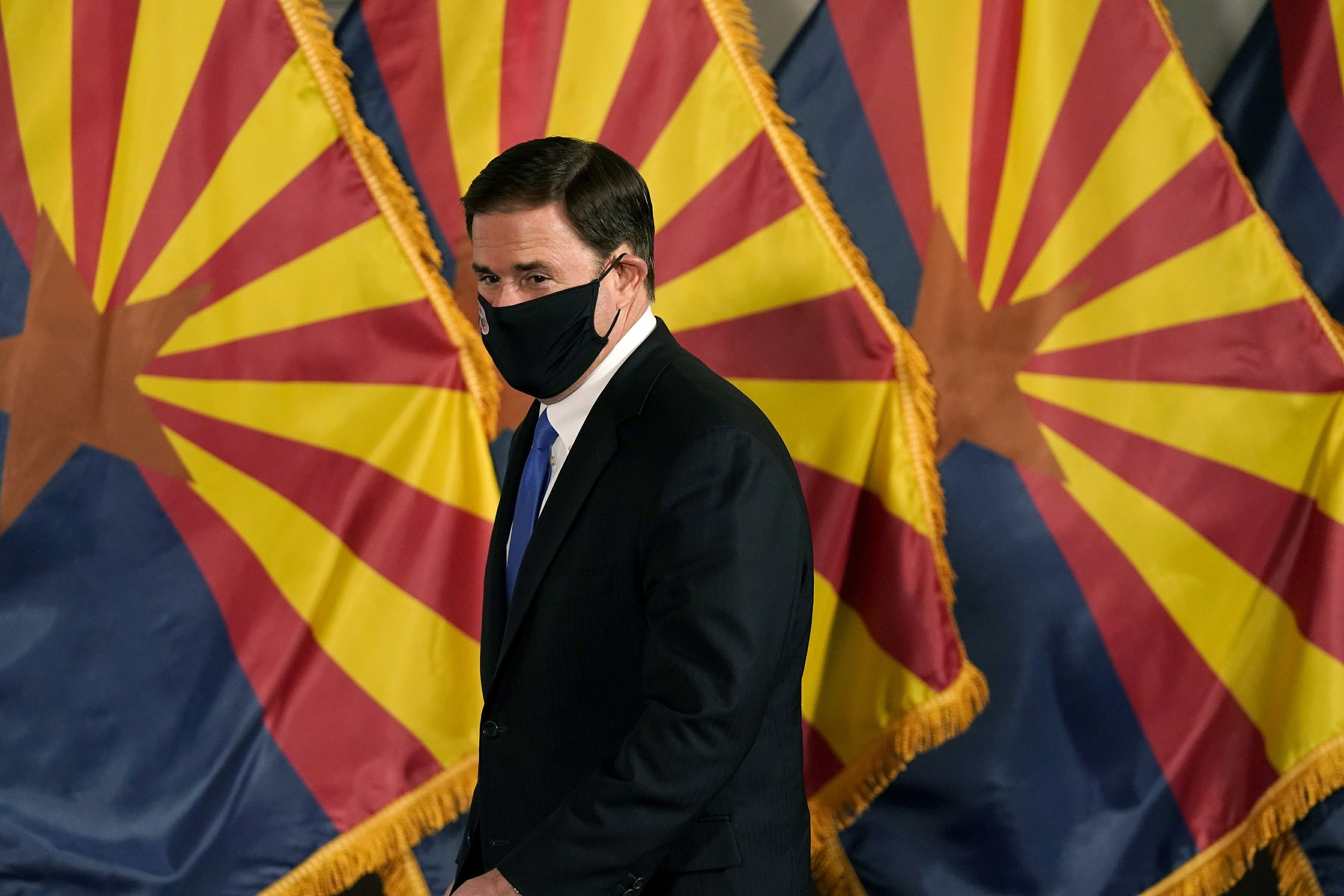 PHOENIX (AP) – Gov. Doug Ducey on Thursday lifted Arizona's remaining restrictions to curb the coronavirus, allowing government-masked mandates and allowing bars and nightclubs that had been closed for months to open their doors without restrictions.
The Republican governor cited rising vaccination coverage and opening vaccination appointments to all adults, as well as a decreasing number of COVID-19 infections and hospitalizations. His decision was welcomed by business interests and Republican officials, and condemned by public health experts and Democrats.
Ducey encouraged the use of masks, especially among groups of unvaccinated people. His latest executive order allows companies to enforce masking mandates and waiver requirements if they so choose, but cities, towns and counties must abolish theirs.
Restrictions on gatherings of 50 or more people have also been lifted, but organizers are required to "encourage" security measures such as social detachment.
"I am confident that the businesses and citizens of Arizona will continue to practice the fundamentals and act responsibly as we gradually return to normal," Ducey said in a statement.
The response largely fell along partisan lines, with Republican lawmakers and mayors welcoming Ducey's move and Democrats calling it premature and politically motivated.
House Speaker Rusty Bowers, a Republican from Mesa, called it "the right and responsible decision" in a statement from Ducey's office.
"Better late than never," Senator Michelle Ugenti-Rita, who has pushed for an end to the emergency declaration that gives Ducey the power to impose health restrictions, wrote on Twitter. "To all the (Arizonans) who suffered so much during this year's shutdown, we're getting there slowly but surely."
Phoenix Mayor Kate Gallego, a Democrat, said Ducey's decision "directly contradicts the best scientists in the field."
"Forgoing precautions now is like sticking the ball on the 5-yard line," Gallego wrote on Twitter. "We know that there are new variants in circulation. The risk of a new wave is real. Obviously, the governor cares far less about the people of Arizona than about his political future. "
Arizona's major hospital chains, which crammed in extra beds and expanded their staff to accommodate the spikes of COVID-19 patients last summer and winter, said the mitigating measures Ducey stopped have worked. They urged people to keep taking precautions.
"A downward trend is not synonymous with the elimination of the virus," hospital officials said in a statement from the Health System Alliance of Arizona, which represents chains such as Banner, Dignity and HonorHealth.
Ducey last year resisted pressure to introduce a statewide mask mandate, even as the virus spread quickly and hospitals became overcrowded. He eventually allowed local governments to require face coverings, and most of them did.
Ducey says local mask mandates were rarely enforced; Mayors say they helped people follow the recommendations of public health experts, who said masks played an important role in limiting the spread of the virus. Tucson mayor Regina Romero said she has no plans to lift her city's mask mandate, creating a potential conflict between the mayor's power and that of the governor.
Arizona has faced two outbreaks that were among the worst in the world at the time, but has recently seen a significant improvement in virus statistics. About a quarter of the Arizona population has received at least one dose of COVID-19 vaccination, and about 16% has been fully vaccinated. The two most common vaccines require two doses for complete protection.
Ducey opened vaccination appointments Monday to everyone 16 and older, but it will be a while for people to get their injection. About 40,000 to 60,000 people received an injection every weekday last week, a combination of a first and second dose.
The state reported 138 additional confirmed COVID-19 cases on Thursday, the smallest daily increase in more than six months. The state reported 81 additional cases on Sept. 8 from the low point between last summer's wave and the worst in the fall and winter, when daily case reports reached as high as 17,000.
Another 32 deaths were reported Thursday, bringing the state's pandemic total to 16,874.
According to data from Johns Hopkins University, Arizona's seven-day moving averages of daily new cases and daily deaths continued to decline.
The moving average of daily new cases fell by more than half in the past two weeks to just over 500 on Tuesday, while the number of deaths fell by nearly a third to 36.6, according to data from Johns Hopkins University.
Ducey also faced continued pressure for the state's rejection from a proposed vaccination site operated by the Federal Emergency Management Agency in the Tucson area. The decision has angered officials in southern Arizona. The Pima County Board of Supervisors voted on Wednesday to urge him to reconsider, a request echoed on Thursday by the five Democrats in the US House delegation in Arizona.
Under pressure from Tucson reporters on Wednesday, Ducey said it would be more efficient for FEMA to give the state the 6,000 doses per day it would have administered.
Associated Press writer Paul Davenport contributed.